Welcome to St. Peter's SFA Scrip!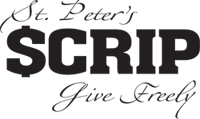 What is Scrip? Scrip is a vital fundraiser for our school and CCD programs. Through Great Lakes Scrip in Michigan and many local merchants, we are able to purchase gift cards at a discount. For example, we are able to purchase a Hy-Vee $100 gift card (just like you see at the cash registers) for $97. We in turn sell these cards to our parishioners face value, or $100 in this example. Therefore, we have made a profit of $3. The best thing about this fundraiser is that it cost you no more than if you spent that $100 directly at Hy-Vee. Scrip is "Giving Freely" to the school and CCD programs. Over the past year, Scrip net profits were approximately $24,000!
How do you purchase Scrip? It is very simple! During the school year, a Scrip order form will be sent home every week with your youngest child in St. Peter's School. You simply fill out your order and send it with a check with your child to school. We will fill it during the day and send it back home with them that same day. Scrip may be purchased on Wednesdays when CCD is in session from 4:15 – 5:30 in the school office. Scrip is also sold at each weekend Mass. Simply drop off your order at the Scrip counter before Mass and pick it up before you leave. By purchasing your grocery money, gas, fast food, and entertainment through Scrip, you can make a big impact. If you have questions about Scrip call the school office at 421-6299.
Scrip Order Form: Download the Scrip Order Form (PDF) it contains a complete listing of all Scrip offers currently available or  e-mail Christy Dickinson to place a special scrip order for vendors or denominations not currently stocked in our inventory.
ScripNow (Online/Mobile Scrip) is a new option where electronic gift cards available from many National Scrip retailers can now be ordered and delivered to your mobile device or computer within minutes! You can order and redeem ScripNow right from your phone using MyScripWallet.com, print the certificate from your computer and redeem it in stores, or copy and paste the code at checkout to apply to an online purchase. ScripNow will also give you the ability to reload physical cards. Purchase Mobile Scrip.
I've heard about eScrip. What is it?
eScrip is a brand-new, exciting program developed to help boost Scrip sales. You simply sign up once and payment for your Scrip is deducted from your checking account. You'll receive your Scrip order automatically once or twice per month, whatever your preference. It only takes approximately 5 minutes to complete the sign-up form and get started. To sign up,contact Christy Dickinson at 402-840-7801.
What about the logo?
What does it mean? The new Scrip logo was designed this summer compliments of designer/parishioner Dave Marks. By definition, to give means "to share". When you purchase Scrip you are in effect giving back to the church and school because of the financial benefit received from Scrip sales. Scrip customers are purchasing items they would have purchased anyway. Thus, they are "giving freely". Scripture expresses the importance of sharing and giving of ourselves and our gifts and talents freely to others—thus, the inspiration for the design of the new Scrip logo. Please consider "giving freely" by purchasing Scrip regularly.