Newsletter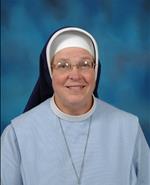 Sr. Mary Michael
April 12, 2017
+J.M.J.P.
Dear Parents,
"Holy Week - the Ultimate Shift!"  http://srmarymichael.wordpress.com
In Christ's Love,
Sister Mary Michael, CK
BOOK FEES & TUITION FORMS are due in the office today, Wednesday, April 12.  Any forms returned after Monday, April 24 at 8:00am will be assessed late charges.  If you wish to slide forms under the door to the mail room over the break, you are welcome to do so.
NO SCHOOL on Holy Thursday, Good Friday, Easter Monday, and Easter Tuesday through Friday, April 13-21, due to the teachers going to the NCEA convention in St. Louis.  Classes resume Monday, April 24.  The full week off following Easter is a very rare event for us.  We will likely not do it again for several years.
AIR QUALITY  When possible we go out for recess.  We will monitor air quality at the official site  we will not go out when the rating gets to "Unhealthy" defined as:  Unhealthy: 151 to 200 (red)
Everyone may begin to experience health effects; members of sensitive groups may experience more serious health effects.
On the step above it (orange) states, "The general public is not likely to be affected."  Here at school on these nice April days, if we do not go out for recess as a whole, the general public is definitely affected.  You always have the option to request that your child be exempted from recess for health reasons.
HOT LUNCH ACCOUNT  If you have not yet activated your online account, it must be completed before April 30.  The instructions are attached to this newsletter.
SFA MEETING & WAX MUSEUM is Tuesday, April 25.  Rosary in church at 6:30pm; general meeting at 7:00pm.  The Wax Museum (5th grade students) will follow.  5th graders report to their classrooms by 7:00pm.
RODGERS & HAMMERSTEIN'S CINDERELLA will be performed here by our own Jr. High students on Thursday and Friday, May 4 and 5, 7:00pm.  Mark your calendar now as we hope to see many of you there.
HELP NEEDED For Set/Stage Construction for the musical as follows:  Wed. April 26, 9:30am – Stage construction (could be done as early as noon if we get enough volunteers); Set construction will continue after school on Wed. April 26, Thur. April 27, and Fri. April 28, 3:30-5:00pm.  The more people that volunteer, the faster the process will go.  If you can help, please call the office at 402-421-6299 or email office@stpeterslincoln.com
Scrip News  Total Scrip sales from April 4-10 were $9880 with a profit of $403.  As a reminder, there will not be any Scrip sales over Easter weekend at any of the Masses.  Sales will resume the weekend of April 22/23.
e-Scrip for April 16th is being sent home before Easter break.  To sign up or to make changes, please contact Scrip Coordinator Christy Dickinson at 402-840-7801 or christydickinson24@yahoo.com
Scrip Volunteers for April 22/23:  5:30pm Denise McLain, 8:00am Cheri Hellem, 9:30am Christy Dickinson, 11:30am Jim/Linda Tucker.  Thank You.
TUITION ASSISTANCE Scholarships Available for Pius X Students  If you plan to attend Pius X High School during the 2017-2018 school year, you may now apply.  The majority of scholarships awarded are based on financial need.  More than $65,500 in tuition assistance/scholarships will be awarded for the next school year.  The deadline to apply is Tuesday, May 30.  Please contact the Pius X Guidance Department at (402) 488-0931 or Pius X Foundation at (402) 488-1046 for assistance or with any questions.  The online application can be found on Pius X's website: www.piusx.net.  Please select Development/Support - Scholarships, and then "Click here to apply for tuition assistance/scholarships."
FATHER/DAUGHTER DAY RETREAT on Sat. May 13, 8:30-4:00pm for girls ages 6-11 years old at the School Sisters of Christ the King Motherhouse.  Flyer is attached and is also posted on the newsletter page  under "Helpful Links".
BUTTERFLY GARDEN Mulch Spreading on Saturday, April 15, 10:30am–Noon.  All 6-8th graders are invited to earn service hours!  Bring gardening gloves and a bottle of water.  Be sure to wear your grubby clothes and come ready to work.  Contact Collin & Maggie Aldrich at cmsaldrich@gmail.com or 402-419-0870 to sign up.  Rain-out date is April 22.
BIKE HELMETS   All bike riders must wear helmets when riding bikes to school.
KFOR Summer Fun Punch Tickets  The money collected from ticket sales stays right here at school!  To purchase ($5 each, one ticket per child, children cannot share tickets), send your money to the school office in an envelope marked "KFOR Tickets".  You may order through May 1 (no late orders accepted).  Tickets will be distributed before school ends.  Click on newsletter for the flyer.
BAND PARENTS  The Spring Concert for all band students in grades 5-8 will be Wednesday, May 3 from 7-8:00pm in the Pius High School gym.  Band students are to wear their school uniform.  The rehearsal will be at Pius in the gym on Tuesday., May 2 from 7-7:45pm for 5th graders, and from 7:45-8:30pm for 6-7-8th graders.
CK SISTERS Outdoor Spring Workday on Sat. May 6, 1-4:00 pm  We will be planting our vegetable garden, mulching flowerbeds, planting a strawberry bed, transplanting grass and trees, as well as cutting down trees.  Helpful items to bring include gloves, wheelbarrows, shovels, rakes, pickups, chain saws and energy!  Children are also welcome!  Mark your calendars now and contact Sister Mary Angela at sr.mary-angela@cdolinc.net if you would like to come and help.  Villa Regina Motherhouse, 4100 SW 56 St., about 2 miles west and south of Pioneers Park.  Click on newsletter for the flyer.
MAYOR'S RUN is Sat., May 6.  Students in Grade 6 and below are welcome to participate.  Register online at www.lincolnrun.org by April 20.  Mrs. Richter will pick up packets/shirts and distribute at school.
CSS CAR SHOW & SHINE event May 20 from 9-3:00pm on the Catholic Social Services parking lot, 23rd & O Street.  Breakfast, lunch, coffee and gelato will be available at Gianna's Java & Gelato on the show site; and everyone is invited to shop at St. Louise Gift & Thrift next door.  No fee for participants or spectators.  A free-will offering is requested.  All donations go to St. Gianna Women's Homes.  Come to show your car, look at cars, visit with friends, and have a good time!  Contact Gary at 402-420-7478 or info@cssisus.org for info.
GRADUATION  Are you shopping for your daughter's graduation dress?  Please remember some guidelines.  Dresses should not be sheer, should be at least knee length, and have a modest neckline and sleeves.  A sleeveless dress may be allowed if a sweater or some type of jacket with sleeves is worn over the dress at all times during the graduation ceremony and reception.  Thank you for helping your daughter to learn and to keep her dignity as a Christian woman.  Boys should wear dress shirts and a tie, nice pants (no jeans or cargo pants), and dress shoes.  No athletic shoes, please.
DETASSELING FORMS for Champoux Detasseling (ages 13 & up) are available in the office.
FRIDAY COLLECTIONS  Please remember to bring food on Fridays for Catholic Social Services and something for the Missionary Childhood Association or for Violeta's fund.