Newsletter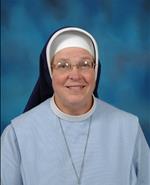 Sr. Mary Michael
May 17, 2017
+
J.M.J.P.
Dear Parents,
"Eighth Grade Interview Highlight"  at http://srmarymichael.wordpress.com
In Christ's Love,
Sister Mary Michael, CK
CONGRATULATIONS!  Our 8th graders last day is today.  Graduation will be Tuesday, May 23 at 7:00pm.  Congratulations to our St. Peter's graduates!  Finish well what you have brought this far.
2017-18 SCHOOL CALENDAR is now available on our website under "Information and Forms."  School begins with "Meet your Teacher" on Monday, August 14 from 11am to 12am.  Pictures will be taken by appointment, links will be provided in the summer mailing.  Our first noon dismissal day is Wednesday August 16.  We will be looking forward to the new year very soon!
AMERICA HERITAGE GIRLS  I am happy to announce a formation scouting group for Catholic girls and young women: American Heritage Girls.  You may have heard His Excellency reference this group in talks or articles, and I encourage you to familiarize yourself with this growing group.  If interested in helping get the group off the ground here at St. Peters contact office@stpeterslincoln.com
REPORT CARDS for Grades K-7 will go home on the last day of school.  Report Cards will be held if money is still owed to the school, and that includes hot lunch (check your lunch account online), missing library books, and track uniforms.  Report Cards may then be picked up during summer office hours once your account is paid in full.  If you have questions, please call the school office.
SUMMER OFFICE HOURS will be Wednesday mornings from 9-12:00 pm beginning May 31.
HAVE YOU MOVED or changed your address, phone number, email?  Please notify the office so that we are able to reach you in the event of an emergency.  The 'summer mailing' is emailed to you at the end of June.
SUMMER MAILING will be sent to you via your email in late June.  Your volunteerism and completion of forms by the July 28 deadline is greatly appreciated.
LAST CHANCE  All items in the lost and found box not claimed by Tues. May 23 will be donated to CSS.
NOTE FROM SCHOOL NURSE  If your student had medication here at school, it will be sent home next Wed. May 24.  Please check your student's backpack.
TUITION PAYMENTS for the next academic school year begin June 1 and run from June-March.  If you are interested in e-tuition, please contact the office.  Your prompt payment is appreciated as is use of e-payment.
FR. KILCAWLEY'S MEETING  For those who would like to view the video of Father's meeting last week, the Vimeo link is https://vimeo.com/217039118/27f91a3455 Thank you parents for your attention to such issues which profoundly impact our children.  An internet screening tool can be particularly valuable if your children will have any free time this summer.
SCHOOL LUNCH PROGRAM is working hard to make access to your Family Account as easy as possible.  As of this date, however, there are still 47 families that have not activated their on-line account.  This will be required in August (2017-18).  Unfortunately, the Family Key Codes that were assigned in March have now expired.  You will need to contact Mrs. Danaher to get a new code.  Please complete this task as soon as possible.  It only takes a few minutes of your time and will allow you to view all payments and purchases on-line.  If we can get 100% participation, we will purchase software to allow families to make electronic payments to their School Lunch Account.  Thank you for your cooperation.  God bless.
SCHOOL UNIFORMS  The Dennis Uniform Try-on Sale will be Thurs. July 27 from 3-7:00pm in Vasa Hall.  Used Uniform Sale will be Wednesday, July 26 (7-9pm) and Thursday July 27 (3-7pm) in Vasa Hall.  Drop off for used uniforms will be July 25 from 4-6pm.
FAMILY PICNIC & BIKE RODEO sponsored by the Knights of Columbus on Sun. May 21 from 12:30-3:00pm  at St. Peter's church.  There will be food, a bike rodeo, games, and lots of fun for everyone!
TOTUS TUUS 2017 Register Now!  Reserve the week of June 4-9 for fast-paced fun for grades 1–12!  Students entering Grades 1–8 will meet Monday–Friday from 9:00am to 3:00pm.  High School students meet in the evenings Sunday–Thursday.  Space is limited and the program is over half full.  Additional info and registration forms are available at www.saintpeterslincoln.com  Questions?  Please call 402.328.2866.
LATSCH'S will again provide families the opportunity to order fall school supplies through them.  Look for the information in the summer mailing.
Scrip News  Total Scrip sales from May 9-15 were $7041 with a profit of $313.  Thank you for your support of Scrip during this past school year.  A lot of money was raised for St. Peter's through your generosity.  During the summer, Scrip will be sold at weekend Masses and before/after the weekly Wednesdya 8:15am Mass.
e-Scrip is sent home on the 1st and 16th of the month.  To sign up or to make changes, please contact Scrip Coordinator Christy Dickinson at 402-840-7801 or christydickinson24@yahoo.com
Scrip Volunteers for May 20/21:  5:30pm Jody Olsson, 8:00am Amy Schriner, 9:30am Libby Tomes, 11:30am Linda Proskovec.  Thank You.
SUMMER SOLUTIONS  Order directly at www.summersolutions.net with our school code H68516PET.  Choose the level that matches your child's current grade level. 
GIVE-TO-LINCOLN DAY  Please generously support Pius X.  Your gift through Give-To-Lincoln Day will ensure competitive salaries for our teachers and create a modern 13-classroom addition to accommodate our growing student population.  Your gift will also claim a share of the $350,000 matching challenge fund.  Pius' goal is to raise $175,000.  Click on GiveToLincoln.com and search for Pius X Foundation.  Online donations will be accepted through 11:59pm on Thurs. May 18.  To donate by check, please make it payable to Lincoln Community Foundation with Pius X written in the memo line.  Mail checks to Pius X High School, 6000 A Street, Lincoln, NE  68510.  Thank you for your support!
8th GRADE BAND STUDENTS Joining Pius X Band  Band Camp will be held July 26-28 and July 31-August 4.  As in years past we will be doing a morning session and an evening session.  Please help your student keep these dates open.  It is such an important time and in many ways will define our whole marching season.   –Mr. Jared Wilhelm, Pius X Band Director
MEMORIAL CARNATIONS FOR SALE  Red, white & blue carnations may be ordered for $5 each to decorate the side altars May 27-29 in honor of a living loved one, military loved one, or in memory of a deceased loved one.  Blue order forms are available in the back of church (Scrip counter) or via the school website.  Orders accepted through 9am May 22.  Proceeds will be sent to the Newman Center to help retire the remaining debt from the construction of the beautiful St Thomas Aquinas Church on the UNL Campus.  Sponsored by Jesus of Divine Mercy Group
LINCOLN MOMs 'Gab & Give' event is June 3.  Come and register for the next session starting in August.  Use the Sign-Up Genius to donate needed baby items for Birthright and bring them June 3.  This is a group of Catholic mothers searching for fellowship, hope, & joy in our ever changing vocation.  Monthly meetings are every first Saturday at John XXIII Center, 8:30-10:30am.  Free-will donation helps cover the cost of speakers, reserved babysitting, and coffee/snacks.  Contact Rosie Bohnart lincolnmoms@outlook.com or the Facebook page.  Bring a friend!
MATT TALBOT NIGHT at Haymarket Park!  The Salt Dogs are going to have a night out at the ball park for MTKO on Thursday, June 8.  Saltdogs vs. Sioux Falls Canaries with game time at 6:45pm.  You can purchase tickets at saltdogs.com/talbot for $13/ticket in Section 104.  It's also Buck Night ($1 hot dogs, popcorn, beer and soda).
FRIDAY COLLECTIONS  Please remember to bring food on Fridays for Catholic Social Services and something for the Missionary Childhood Association or for Violeta's fund.