Notes from Father Charles Townsend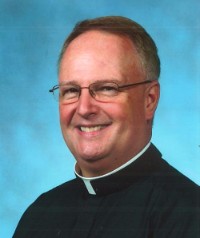 Father Charles Townsend
Feast of Mercy
The Feast of Mercy holds the first place among all external manifestations of devotion to The Divine Mercy requested by our Lord through St. Faustina. Our Lord's explicit desire that this feast be celebrated on the First Sunday after Easter is recorded in her Diary eight times.
On April 30, 2000, His Holiness John Paul II, in response to the wishes of the Christian faithful, declared that "the Second Sunday of Easter henceforth throughout the Church will also be called Divine Mercy Sunday." (cf. Homily: 30 April 2000 and Decree: Congregation for Worship.) The desire for this celebration was expressed by Our Lord to St. Faustina, and can be found recorded in her Diary:
"My daughter, tell the whole world about My inconceivable mercy. I desire that the Feast of Mercy be a refuge and shelter for all souls, and especially for poor sinners. On that day the very depths of My tender mercy are open. I pour out a whole ocean of graces upon those souls who approach the fount of My mercy. The soul that will go to confession, and receive Holy Communion (on this day) shall obtain complete forgiveness of sins and punishment." (699)
Throughout its liturgy, proper to the Octave of Easter, the Church proclaims in various ways the Divine Mercy poured out by her Redeemer through His Word and Sacraments, especially through Baptism, Penance and the Holy Eucharist. References to Water and Blood and the Holy Spirit contained in the prayers and readings speak of the Sacraments of mercy. Through Baptism, Divine Mercy enters the Human soul; in Penance, Divine Mercy heals and reconciles it; and the Eucharist transforms and divinizes the soul. Thus, the liturgy of the Second Sunday of Easter calls us to trust in God's Mercy and witnesses to the reality of Divine Mercy manifested in Christ.
Thus, to fittingly observe the Feast of Mercy, we should:
1. Celebrate the Feast on the Sunday after Easter;
2. Sincerely repent of all our sins;
3. Place our complete trust in Jesus;
4. Go to Confession, preferable before that Sunday;
5. Receive Holy Communion on the day of the Feast;
6. Venerate the Image of The Divine Mercy;
7. Be merciful to others, through our actions, words, and prayers on their behalf.