The Nativity Scene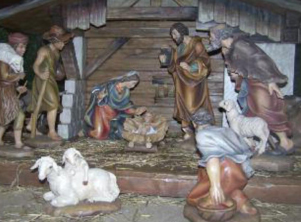 The Nativity Scene
The beginning of Advent is the time to set up your Nativity scene ("presepio" in Italian). All of the Figures are set out but for the Magi (the three Kings) and Baby Jesus. The manger itself should be left empty until Christmas Eve, when Baby Jesus arrives at midnight. This sets up a mood of anticipation; everything is in place — but He has not yet come. Some families have a tradition of "preparing the manger" by allowing the children each evening to place a single piece of straw for each good deed done during the the day. By the time Christmas Eve comes, Jesus will have a soft bed to lie in.

The crib becomes a scene of drama, and just as the crib is empty until Christmas Eve when Baby Jesus is added, the Three Kings should be kept a bit away from the manger and moved closer and closer until they finally reach it, not on Christmas, but on the Eve of the Feast of the Epiphany (Twelfth-night) which begins the celebration of Our Lord's showing His divinity to the wise men. Some families might start with the Magi in a totally different room and move them closer and closer each night. When they finally arrive on Twelfth-night, Baby Jesus can be crowned and adorned in purple, the color of royalty.

The scene of the Nativity is usually depicted as a cave or a simple wooden structure, but some manger scenes are set in churches or homes instead. They can be incredibly complex or simple, made of fine ceramics or of wood or paper. But in all cases, the basics of the Nativity Scene are Mary (on Christ's right, or our left as we face the manger), St. Joseph (to Christ's left, or our right as we face the manger), at least one angel, the three Magi, at least one shepherd, a lamb as the shepherds' offering and symbolizing the Sacrifice of Christ, and the ox and the ass. That Jesus lay between an ox and an ass is ascertained from Isaiah 1:3.