The Nativity of the Blessed Virgin Mary - September 8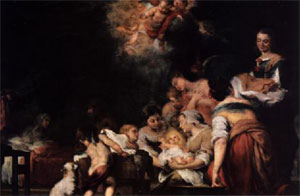 Let us celebrate the birth of the Virgin Mary; let us worship her Son, Christ the Lord.
The feast of the Nativity of the Blessed Virgin Mary is September 8. This is a special day celebrating the birth of our Blessed Mother. Feast days usually celebrate the date of the death of a saint, which is the day remembered as "their birth into everlasting life."
However, Mary's birth is a cause of great joy and is celebrated as she was selected by God to become the Mother of His Son and as such received the special grace of being conceived without original sin.
Although Mary's birth is not mentioned in Sacred Scripture through other writings, we know the names of Mary's parents, Joachim and Anna. According to tradition, the childless couple prayed and fasted that God would grant them a child and that they conceived after an angel appeared to Anna.
This feast was celebrated by the sixth century on the traditional date, September 8th which falls exactly nine months after the feast of the Immaculate Conception. Although it is not celebrated with the same solemnity as the Immaculate Conception (which is a holy day of obligation), it is an important feast because it prepared the way for the birth of Christ.
Act of family consecration:
Most Sacred Heart of Jesus and Immaculate Heart of Mary, we consecrate ourselves and our entire family to you. We consecrate to you: our very being and all our life. All that we are. All that we have. And all that we love. To you we give our bodies, our hearts and our souls. To you we dedicate our home and our country. Mindful of this consecration, we promise you to live the Christian way by the practice of Christian virtues, with great regard for respect for one another. O Most Sacred Heart of Jesus and Immaculate Heart of Mary, accept our humble confidence and this act of consecration by which we entrust ourselves and all our family to you. Most Sacred Heart of Jesus, have mercy on us. Immaculate Heart of Mary, pray for us.