The Holy Eucharist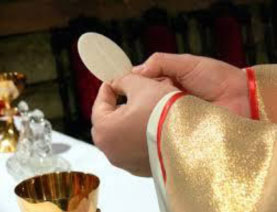 The Holy Eucharist
The Holy Eucharist, or Holy Communion as it is often called, is one of the seven sacraments given to us by Jesus Christ. A sacrament is an outward sign, instituted by Christ to give grace. (Baltimore Catechism #574)
The Eucharist is also called the Blessed Sacrament because it is the greatest of all the sacraments: "The Eucharist is 'the source and summit of Christian life. The other sacraments … are bound up with the Eucharist and are oriented toward it. For in the blessed Eucharist is contained the whole spiritual good of the Church, namely Christ Himself.'" (Catechism of the Catholic Church 1324)
The Holy Eucharist is both a sacrament and a sacrifice as in it (under the appearance of bread and wine) the Lord Jesus Christ is contained, offered and received. This is called the "Real Presence." Catholics believe that the Holy Eucharist is the body, blood, soul and divinity of Christ not a symbol of Jesus, but Christ fully present.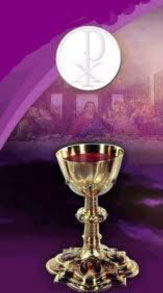 The Holy Eucharist
The first Holy Eucharist was offered by Christ at the Last Supper, the night before He died. "When the hour came, he took his place at the table with the apostles… Then he took the bread, said the blessing, broke it, and gave it to them, saying, 'this is my body, which will be given for you; do this in memory of me. … This cup is the new covenant in my blood, which will be shed for you.'" (Luke 22:14-20)
When Jesus said "This is My Body" and "This is My Blood" the bread and wine changed into the Body and Blood of Christ. This is known as Transubstantiation and occurs at the consecration of the Mass. The bread and wine still appear to look, feel and taste like bread and wine, but the substance has been changed. Christ was explicit when he said: This is My Body … this is My Blood.
It is through the eyes of faith that the faithful believe that Christ is fully present in the Eucharist and that Christ gave us His own Body and Blood to be our spiritual food here on earth.
The Holy Eucharist is a Mystery of the Church and this brief explanation contains only a glimpse of this divine mystery. We hope that you will continue to grow in faith, knowledge and love of our Lord.