St. Thomas More - June 22
By Marian Malone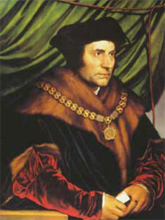 St. Thomas More
Thomas More was born in London to Sir John and Agnes Graunger More on February 7, 1478. During his early years, he attended St. Anthony School, considered one of the finest educational institutions in London.
Later in his youth, Thomas served as a page for John Morton, the Archbishop of Canterbury. Morton saw potential in Thomas and nominated him for a place at Oxford in 1492.
Thomas' father wanted his son to pursue a career in law. Thomas left Oxford in 1494, and studied law from 1496 until 1502. Despite all of his education, Thomas took a great interest in the simple lives of the monks. He lived near the Carthusian Monastery near London from 1503-1504, and joined the monks in their daily spiritual exercises.
Thomas married Jane Colt in 1505, with whom he had four children. He shared his love of learning with his wife, tutoring her in music and literature.
After his wife's death in 1511, Thomas married a wealthy widow named Alice Middleton. While they had no children together, Thomas raised Alice's daughter and he became the legal guardian of a young woman named Anne Cresacre.
More is best noted for two things: his book Utopia and his opposition to the Protestant Reformation. First published in 1516, some scholars believed that More's book Utopia was based on The Acts of the Apostles. On the island of Utopia, land belonged to everyone, and men and women had equal rights.
As the 1500's progressed, the Protestant Reformation was in full swing. More also insisted that the Pope, not the King of England, was to be the head of the Church.
In the midst of the Protestant Reformation King Henry VIII decided to have his marriage to Queen Katherine of Aragon annulled which More opposed. In 1532, More asked to be relieved of his duties in court, and the king accepted his resignation. More did not attend the coronation of Henry's second wife Anne Boleyn. After refusing to recognize the king as head of the church of England, More was arrested for treason. He was beheaded on July 1, 1535.
Thomas More was canonized on May 19, 1935. His steadfast loyalty to the Church and refusal to yield to popular opinion serves as an example for all of us.