St. Therese of Lisieux
By Marian Malone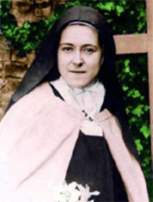 St. Therese of Lisieux
Marie-Francoise-Therese Martin was born in Saint-Blaise, Alencon, France on January 2,1873. She was the youngest daughter of Louis and Zelie Martin.
Shortly after birth, Therese showed signs of developing Enteritis, an illness that claimed the lives of four of her siblings, and spent her first 15 months away from her parents. On Holy Thursday, April 2, 1874, she was returned to her family.
Therese enjoyed a strict Catholic upbringing, attending daily Mass, observing fasts and prayer rituals, and performing works of charity.
Her mother died of breast cancer when she was only 4 years old. Her father then moved his family to Lisieux.
The pious young girl suffered another blow in October 1882, when her beloved sister, Pauline, left the family to enter a cloistered monastery in Lisieux. Therese became ill with nervous tremors, and her constant shaking caused her to lose the power of speech. Therese's healing began after she gazed upon a statue of the Virgin Mary.
In May 1887, Therese informed her father that she wanted to enter the Carmelite convent with her sisters. She was originally refused admission because of her youth. Therese became a novice nun on the Feast of the Assumption on April 9, 1888. She took the veil on January 10, 1889.
Therese entered the convent hoping to become a saint, realizing, six years later, that she was small and insignificant. No matter how hard she tried, she could not achieve perfection. The young nun soon came to the conclusion that she must ask for God's help in all things, and soon realized that we can all serve the Father in small ways.
Therese of Lisieux died of tuberculosis, at the age of 24, on September 30, 1897 and was canonized on May 17, 1925. Her feast day is October 1st and she is patron on the missions.
St. Therese, the Little Flower, was chosen as the patron of one our Parish Council of Catholic Women circles. Their purpose is to serve others as St. Therese did in "little ways." Even small acts can make a big influence in someone else's life.
St. Therese of Lisieux is a wonderful example for all, as very few of us will accomplish great feats, but we can serve God in our everyday activities.