St. Matthew, the Apostle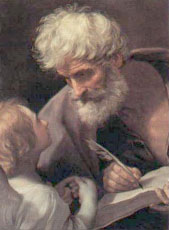 St. Matthew, the Apostle
Tax Collectors: During Jesus' time, few people were more hated or feared than the tax collector. Tax collectors were viewed as bullies and known to harass and lie. Even an honest and gentle tax collector was seen as impure and a social outcast. Inviting a tax collector to become a disciple of a Jewish rabbi would be scandalous.
'And as Jesus passed further on, he saw Levi, the son of Alphaeus, sitting at work in the customs-house and said to him, "Follow me"; and he rose up and followed him.' (Mark 2:14)
Levi is St. Matthew, as Jesus conferred this name upon him when He called him to be an Apostle. Jesus' choice of Matthew as one of the twelve was summarized by Christ when he explained that he had come "not to call the just, but sinners."
Very little is written or known about St. Matthew, but he provides a positive example for our faith as he responded immediately to Jesus' call and was anxious to share the Good News.
After Christ's death and resurrection, it is believed St. Matthew preached in and around his home land and eventually ventured to other areas and countries. It was for his fellow countrymen, both believers and non-believers, that he wrote The Gospel According to Saint Matthew between 40 AD to 50 AD. For Christ's followers, he used the Gospel to reaffirm their beliefs and encourage them from returning to Judaism. For the unbelievers, Matthew's Gospel was used to prove that the Messiah had truly come in the person of Jesus. St. Matthew's orderly, historical account begins with Jesus' genealogy and spends much time discussing the Old Testament prophecies and Jesus fulfilled them. The Gospel According to Saint Matthew is the first Gospel. For a man who was dedicated to facts and figures, it is interesting to note that history is uncertain if St. Matthew died of natural causes or was a martyr. His feast day is celebrated on September 21st and he is the patron saint of bankers and accountants.