St. Mark, the Apostle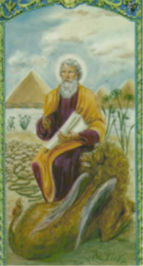 St. Mark, the Apostle
St. Mark, referred to in the Acts of the Apostles, as John Mark (12:12, 25, 15:37), was one of the four writers of the Gospels. His many titles include evangelist, apostle and martyr.
A native of Libya, Mark was born of Jewish parents in the city of Cyrene. Tradition teaches that his parents migrated to Palestine. They settled in Cana of Galilee, not far from Jerusalem. It is believed that Mark's mother, Mary, was an admirer of Jesus Christ and that she followed him everywhere. After Christ's death and resurrection, it was to her house that Peter came to on his release from prison; the house was a meeting place for the brethren (Acts 12: 12-13).
Within this environment of believers, the young Mark would likely have been a witness to the preaching of Jesus, as well as His passion. Some early Church writers indicate that Mark served as an interpreter for Peter and wrote down his teachings which are reflected in his Gospel (Eusebius, Church History). Mark, as an evangelizer, traveled extensively to preach the Good News.
Mark escorted Paul on his first apostolic journey with Barnabas (Mark's cousin) to Antioch (Acts 13:5) and later, Mark escorted Barnabas to Cyprus (Acts 15:37-40)
Shortly before his death, St. Paul writes to Timothy at Ephesus to pick up Mark and bring him to Rome adding "for he is profitable to me for ministry" (2 Timothy 4:11). Whether Mark went to Rome at that time is not certain, but the fact that St. Peter sends Mark's greeting to a number of Churches in the region implies Mark was widely known there (1 Peter 1:1).
Mark is also considered the founder of Christianity in Alexandria, Egypt around 41-44 AD. Tradition states that St. Mark was martyred around 68 AD when pagans tied him to a horse's tail and dragged him through the streets of Alexandria until his body was torn to pieces. His head is in a church named after him in Alexandria, and some of his relics are in St. Mark's Cathedral in Cairo. The remainder of his relics are in the San Marco Cathedral in Venice, Italy.
St. Mark is symbolically represented by a lion and his feast day is April 25.