St. Luke, the Apostle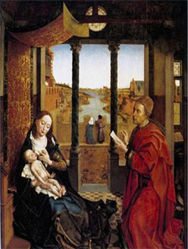 St. Luke is depicted painting the Blessed Virgin Mary
St. Luke's feast day is October 18 and he is regarded as the patron of physicians, surgeons and artists. He is referred to as "beloved physicians" by St. Paul (Colossians 4:14). Because several ancient images of Mary claimed him as the artist, he is sometimes depicted as a painter or painting the Blessed Virgin Mary. Whether this old tradition has any factual basis is debated.
St. Luke is symbolically represented by a bull or calf. The calf or bull represents sacrifice (Christ's sacrifice for the world) and St. Luke wrote eloquently about this sacrifice for the Gentiles.
What we know about St. Luke is limited. He was born of Syrian or Greek parents in Antioch. He had already converted to Christianity and was a member of the Christian community before he joined St. Paul in his travels. Some early traditions held that St. Luke suffered a martyr's death. Luke does not identify himself as an eyewitness to Jesus, but as having learned from those who were eyewitnesses. Presumably one of those was Mary as only Luke included details of the Annunciation and visit to Elizabeth. Luke seems to be writing for an audience largely made of Gentiles as he substituted Greek names for Hebrew names.
Luke stresses the universal character of salvation, God's mercy, and forgiveness of sinners. Our knowledge of Mary comes in large part because of Luke's close connection with her. Luke offers Mary, the Mother of God, as a model for us.