St. Juan Diego (1474-1548)
Feast Day: December 9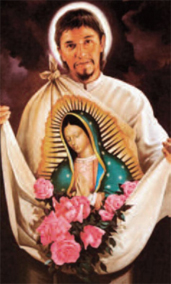 St. Juan Diego
Juan Diego was born in 1474 in an area which is now Mexico City. Little is known about his early life other than he was a simple farmer and laborer.
Juan was baptized by a Franciscan missionary priest at the age of 50 years old. Juan and his wife, both converts, walked 14 miles to attend religious instructions and Mass twice a week.
On December 9, 1531, Juan who was now a widower was walking to Mass. Nearing Tepayac Hill, he heard a woman's voice call him to the top of the hill where he saw a glowing cloud. On the cloud was a beautiful woman wearing garments like an Aztec princess.
She told Juan that she was the Virgin Mary. She asked him to go to the bishop and ask that a church be built upon that site. Mary said, "I vividly desire that a church be built on this site, so that in it I can be present and give my love, compassion, help, and defense, for I am your most devoted mother…to hear your laments and to remedy all your miseries, pains, and sufferings."
The bishop, who did not believe Juan, asked for proof of the woman's identity. On December 12, 1531, Juan again met our Lady who told him to climb to the top of the hill where they first met and to bring the flowers that he would find there to the bishop. Juan found blooming roses growing in the frozen ground which he gathered in his tilma (cloak) and took them to the bishop.
When Juan opened his cloak for the bishop, the Castilian roses (which were not grown in Mexico) fell to the ground and a beautiful image of our Lady was imprinted on the tilma. The bishop knew that this was truly our Lady and set out to do as she had asked. A church was built upon the hill where our Lady first appeared. Juan Diego, with the bishop's permission, lived in a hut on the site and cared for the church and the many people who came to pray to our Lady until he died.
Juan remained devoted to our Lady and to the Eucharist until he died on May 30, 1548. Juan Diego was beatified on May 6, 1990 and canonized a saint by Pope John Paul II on July 31, 2002. He is the patron saint of Mexico.
Our Lady of Guadalupe is the patroness of the Americas and her feast day is December 12. The tilma with this miraculous image resides in the Basilica of Our Lady of Guadalupe today.