St. John, the Evangelist
Feast Day: December 27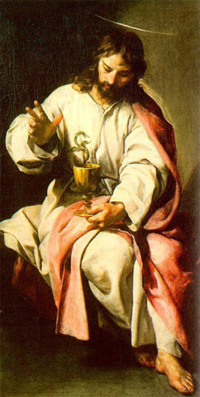 St. John the Baptist
John was the son of Zebedee and Salome, and the younger brother of James the Greater. Originally the two brothers were fishermen and were probably first the disciples of John the Baptist. They were called by Christ from the circle of John's followers, together with Peter and Andrew.

John had a prominent position in the Apostolic body. Peter, James, and he were the only witnesses of the raising of Jairus' daughter, of the Transfiguration, and of the Agony in Gethsemane. Only he and Peter were sent into the city to make the preparation for the Last Supper. At the Supper itself, his place was next to Christ on whose chest he leaned. It is also believed that John was the "other disciple" who with Peter followed Christ after the arrest into the palace of the high-priest.

Only John remained near Christ at the foot of the cross with Mary, Jesus' mother and Mary Magdalene. It was John whom Jesus entrusted His mother to when He said: "Woman, here is your son. Here is your mother" in John 19:25-27.

After the Resurrection, John with Peter was the first of the disciples to hasten to the grave and he was the first to believe that Christ had truly risen. When later Christ appeared at the lake of Genesareth John was also the first of the seven disciples present who recognized his Master standing on the shore.

After Christ's Ascension and the Descent of the Holy Spirit, John took, together with Peter, a prominent part in the founding and guidance of the Church. John, the fourth evangelist, has often been referred to as "the disciple whom Jesus loved". Besides his Gospel, John also wrote three epistles and Revelation. St. John's feast is celebrated on December 27. Early Christian art usually represents St. John with an eagle, symbolizing the heights to which he rises in the first chapter of his Gospel.