St. John of God—March 8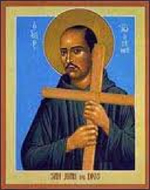 St. John of God
John was born on March 8, 1495 in Portugal. At eight years old, John heard a traveling priest talk about the adventures in the "new worlds." He ran away from home that very night to travel and seek adventure. He worked as a shepherd until the age 27 when he joined the Spanish army as a soldier in the war against France.
As a soldier, John lived a rough life of gambling, drinking and pillaging. One day, he had a close call and he took a good look at his life and decided that he needed to make a change. John left army life around age 40 to spend the rest of his life making up for his sins.
John performed many works of mercy in his remaining years while many people criticized his efforts. He traveled to Africa to ransom Christian captives, he nursed the sick and poor, provided for the homeless and sold religious book and holy cards. His suffering led him to helping others and he started a hospital and the Hospitaller Order of St. John of God with the apostolate of helping the poor and the sick. John always encouraged others by saying: "Work without stopping; do all the good works you can while you still have time."
While trying to save someone from drowning, John became ill and died on March 8, 1550, his fifty-fifth birthday. John is the patron saint of booksellers, hospitals and nurses.