St. Joachim and St. Anne
Feast Day: July 26
Parents of the Blessed Virgin Mary Grandparents of Jesus Christ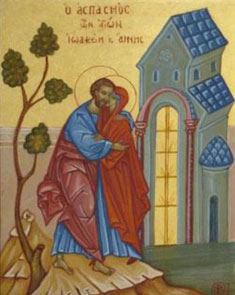 Saints Joachim & Anne Parents of our Lady
Saints Joachim and Anne's names are not mentioned in the Bible, but were found in legendary books from early Christian times.
In Hebrew, Joachim's name means "God prepares" or "God will establish." Anne's name in Hebrew is Hannah, meaning "grace." How fitting for Mary to be born from this couple.
Tradition tells us that it is believed that Saint Joachim was a retired priest or holy man. Joachim and Anne were older and childless when Joachim had a vision that they were to be blessed with a child. Anne had prayed that they would be so blessed and when Mary was three years old, she was given to the service of the temple.
Even without Biblical accounts of the lives of Joachim and Anne, we know that these parents nurtured Mary and raised her to be worthy to be the Mother of Jesus. Their faithful and loving example to Mary is model and example to all parents.
St. Joachim is the Patron Saint of fathers, grandfathers, married couples, linen traders and cabinet makers. He is often pictured with a book or scroll and doves.
St. Anne is the Patron Saint of married women, Christian mothers, women in labor and an intercessor for childless couples.
Parents of Mary, pray for all parents that they may provide the loving home and faithful teaching that you provided your daughter. Amen
Online Giving
St. Peter's now provides Online Giving—a convenient and safe way to make a one-time or recurring donation. Getting started is easy.