St. Francis Xavier
Feast Day: December 3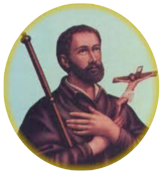 St. Francis Xavier
St. Francis Xavier was born into an aristocratic family near Sanguesa, in Navarre (Spain) on April 7, 1506. He grew up surrounded by conflict with the family land confiscated and divided during 18 years of war.
In 1525, Francis Xavier went to college in Paris where he met Ignatius of Loyola. Xavier decided to dedicate his life to Catholic missionary service. Together with Ignatius and several others, he founded the Society of Jesus (in 1534) with vows of poverty, chastity and obedience. An additional vow was made to convert the Muslims in the Middle East. In 1537, he traveled to Venice, Italy to be ordained a priest in the new Society of Jesus (Jesuit) order.
Much of his life was devoted to the missions in Asia. At the request of the King of Portugal, Francis was appointed to evangelize the people of the East Indies. In April 1541, he sailed for India and after a difficult journey, landed at Goa (at that time, the capital of Portuguese, India) in May, 1542. With only his breviary and book of mediations, he preached, ministered to the sick and gathered children to hear the Word of God. Francis wanted to restore Christianity which had been introduced to the area in previous years, but had almost disappeared due to the lack of priests. He devoted close to three years ministering to and converting many of the people of India despite having to endure many hardships and persecutions. Francis' work was the foundation for many permanent changes and he is known as the 'Apostle of the Indies.'
After traveling around Asia preaching for several years, many other missionaries had arrived at Goa, so Francis set sail for Japan in 1549. He spent a year learning the language and used artwork such as pictures of the Madonna and Baby Jesus to teach the faith. The Japanese people were not easily converted as many of them were already Buddhist or Shinto; additionally, there was a fear of persecution. The government and the Buddhist monks grew angry over Francis' attempts at conversion. Francis stayed in Japan for two and a half years and saw the establishment of Jesuit colonies.
He set sail to return to Goa, but his thoughts were on China and he planned an expedition there. Francis was taken ill and died on December 3, 1552 on an island near the coast of China while waiting in vain to gain access into the country.
Francis visited and preached is so many countries in 10 years! When considering the difficulties in traveling and the distances involved, the zeal of Francis, the miracles that God performed through him, St. Francis Xavier is considered the greatest missionary since the time of the Apostles. He was beatified in 1619 by Pope Paul V and canonized on March 12, 1622 by Pope Gregory XV. Francis is the patron saint of Catholic missionaries.