St. Francis Xavier Cabrini
Feast Day: November 13
Patron of Immigrants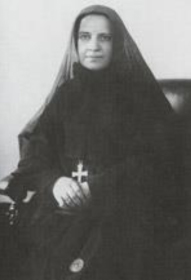 St. Francis Xavier
St. Francis Cabrini was born in 1850 in Lombardi, Italy and was the youngest of 13 children, of which only 4 survived childhood. At the age of 18, she decided to become a nun, but poor health did not allow her to enter a convent, so she worked on a farm with her family.
In 1863, she went to a girls' boarding school with the intent to become a teacher. The Daughters of the Sacred Heart nuns taught her school classes and she was overjoyed to learn about the religious life and share in their devotions. She graduated in 1865 and subsequently taught in both a private school established by her sister for the poor and a public school. Francis was asked to teach at an orphanage and to establish it as a religious institution in 1874, which she accepted and at that point she entered the religious life as a novice mistress in charge of five other novices. She became a professed nun in 1877.
Mother Francis Xavier Cabrini, as she was now known, assisted in several schools and convents and planned to be a missionary in the Orient. However, at the urging of Pope Leo XIII, she changed her dreams of heading to China and went to the United States (New York) where she taught Italian immigrants and helped establish schools, orphanages and hospitals.
She traveled many places including New Orleans, Chicago, Denver, Santa Monica, Seattle, Latin America, and Madrid where she extended her mission work. Mother Cabrini became a United States citizen in 1909 and continued to travel until she became ill in 1917 and died on December 22 at the age of 67.
A shrine in Golden, Colorado is dedicated to Mother Cabrini who loved the mountains. In 1902 during a visit, she found a property on the slope of Lookout Mountain owned by the town of Golden. She negotiated the purchase of the property even though water had to be carried up the mountain as there was only a very small pond located on it. In 1912, Mother told the sisters who lived there to "Lift up that rock over there and start to dig. You will find water fresh enough to drink and clean enough to wash." The discovered spring has never stopped running. Many pilgrims visiting the shrine believe the water has brought healing and peace to their lives.