St. Barbara - December 4th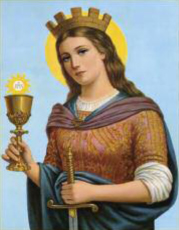 St. Barbara - December 4th
Barbara — one of the Fourteen Holy Helpers — was the beautiful daughter of a rich and powerful pagan named Dioscuros. She grew up in Nicomedia (in modern Turkey). To keep her a virgin, her father locked her in a tower when he was away, a tower with only two windows. Upon his return from one journey, he found three windows in the tower instead of two. When he asked Barbara about this, she confessed that she became a Christian after being baptized by a priest disguised as a physician, and that she'd asked that a third window be made as a symbol of the Holy Trinity. She was then denounced by her father, who was ordered by the local authorities to put her to death. She escaped from her tower, but her father caught and killed her. When he dealt the death blow, he was immediately struck by lightning. She is depicted in art holding a small tower or standing near a tower or cannon, and holding a chalice and/or the palm of martyrdom.

During her time in the tower, she kept a branch from a cherry tree which she watered from her cup. On the day she was killed, the cherry branch she'd kept blossomed. From this comes "Barbarazweig," the custom of bringing branches into the house on December 4 to hopefully bloom on Christmas (some reserve the custom for the unmarried).

The tradition is that unmarried members of the household are supposed to go out into the orchard and cut twigs from cherry trees and put them into water. There is an old belief that whoevers cherry twig blossoms on Christmas Day can expect to get married the following year. The twig branches provide a nice table decoration for Christmas dinner.

Of course, the branches might not bloom at all, but if the temperature outside has been around 32 to 40 degrees for six weeks, they most likely will. Apple, chestnut, pear, and peach, or forsythia, plum, lilac and jasmine branches will work, also, but cherry is the tradition. Cut stems (the milder the weather, the better), looking for thinner branches with swollen buds. Keep branches in fresh sweetened water in a cool place. As soon as the buds appear to swell bring them into a warm room (not too close to the source of heat). Once the blooms appear, place the branches somewhere to give them lots of light and keep them in cooler air so that the blooms will stay fresh longer. Change water every day. When they are in full bloom, re-cut the stems and put them in water with a little sugar, a tiny bit of bleach, a penny and a dissolved aspirin.