Pentecost Sunday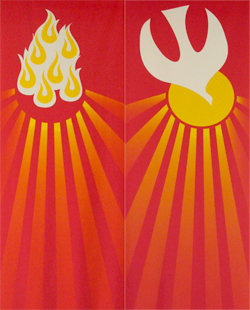 Pentecost Sunday
Pentecost Sunday marks the descent of the Holy Spirit upon the apostles and the birthday of the Church. It occurs 10 days after the Ascension (50 days after Easter).

After Christ ascended into heaven, the apostles and Mary retreated to the upper room to pray for the coming of the Holy Spirit. On the tenth day, there came a sound from heaven, as a mighty wind coming and it filled the whole house where they were sitting. And there appeared to them parted tongues as it were of fire, and it sat upon every one of them. The Apostles began to preach the Gospel in all languages that the Jews who were gathered in the town for the Jewish festival spoke, and about 3,000 people were converted and baptized that day. (Read Acts 2 for the complete story)

Pentecost is often called the birthday of the Church because on this day, with the descent of the Holy Spirit, Christ's mission is completed and the New Covenant begins. Peter, the first pope was already the leader of the apostles and disciples at this time.
The Sacrament of Confirmation was instituted by Christ when he conferred the Holy Spirit on His apostles on Easter Sunday and then more strikingly on Pentecost. Confirmation is the full outpouring of the Holy Spirit once granted to the Apostles on Pentecost.
Confirmation increases and deepens baptismal grace, unites us more firmly to Christ, intensifies our adoption as children of God, increases the gifts of the Holy Spirit in us, makes the bond with the Church more perfect and gives us the strength to spread and defend the faith.
The Seven Gifts of the Holy Spirit
Wisdom
Understanding
Council
Fortitude
Knowledge
Piety
Fear of the Lord