Our Lady of Lourdes – February 11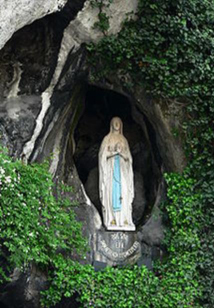 Our Lady of Lourdes February 11
In 1858 in Lourdes, France at the foothills of the Pyrenees mountains, the Blessed Virgin Mary appeared eighteen times between February 11 and July 16 to a fourteen year old girl from a poor family named Bernadette Soubiroux. Although at times many others were with her, the beautiful lady appeared in the hollow of a rock and spoke only to Bernadette.
When asked about the apparition, Bernadette described the lady as a woman "Lovelier than I have ever seen" and she would faithfully repeat her messages to others. One day the lady told her to drink of a mysterious fountain which was in the grotto. Although the fountain was unknown, Bernadette located it and water gushed forth. During several visions, Bernadette was also instructed to tell the priests that a chapel was to be built on the spot and processions were to be made to the grotto.
Only four years after the first vision, the diocesan bishop declared the faithful "justified in believing the reality of the apparition." Construction of a basilica began on the site and in 1873 the pilgrimages began.
An estimated 200 million have visited Lourdes to date and the pilgrimages and processions continue today.
The waters from the grotto have been the source of many miraculous cures both physical and spiritual. Many have also been cured at the grotto without entering the waters. Within the first fifty years, over 3,900 physical cures have been recorded. It is believed that this number is higher as visitors who have been cured are not required to report it.
The Church keeps detailed records of illnesses and documents relating to reported cures. Recognized cures have no natural cause to account for the cures that have been witnessed in the grotto where the Blessed Virgin Mary appeared. It is believed that these instantaneous miracles can only be attributed God.