Ordinary Time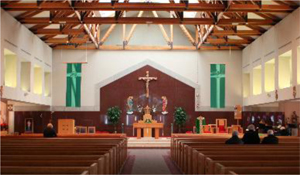 Ordinary Time
While the word "ordinary" in popular usage is used to describe things that are nondescript or dull, ordinary rather means customary, regular, and orderly. Ordinary Time may also be called Ordinal Time, which means numbered time. Ordinal comes from the Latin "ordinalis," which is a word meaning "showing order, denoting an order of succession." Hence, Ordinary Time is the standard, orderly, counted time outside of the other liturgical seasons. It is the season when Catholics grow and mature in their faith outside the great celebrations of Advent, Christmas, Lent and Easter.
Ordinary time is the longest liturgical season in the Catholic Church, encompassing either 33 or 34 weeks each year. Because other liturgical seasons begin or end with movable feasts, the length of Ordinary time can vary slightly; however, 33 weeks is the more common length. The weeks are numbered, e.g., the first Sunday of Ordinary Time, the second Sunday of Ordinary Time, etc., and mark our steady but sure progress toward the Kingdom of Heaven.
Ordinary time is technically one liturgical season, though it is divided into two periods. The first period begins on Monday (or Tuesday if the feast of the Baptism of the Lord is celebrated on that Monday) after the Sunday following January 6 and continues until the day before Ash Wednesday, inclusive. The second period starts on the Monday after Pentecost and ends on the Saturday before the first Sunday of Advent. The last Sunday of Ordinary Time is celebrated as the Solemnity of Christ the King.
The liturgical color of Ordinary Time is green, a sign of hope; however, other appropriate colors are worn on particular feast days.
During Ordinary Time the readings are not chosen according to a theme, but are presented in a continuous fashion, the life and work of Jesus Christ as proclaimed in the Gospels of Matthew, Mark, or Luke. John's Gospel is read principally during the liturgical seasons.
Ordinary Time is a time to deepen one's prayer life, read Scriptures, unite more deeply with the Lord through the Sacraments and strive to become a more holy person.