Most Sacred Heart of Jesus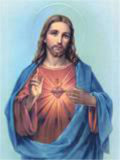 How Does the Liturgy Shape Our Lives?
Devotion to the Sacred Heart is a form of devotion to Jesus, and especially to His Love. This devotion began as a private devotion and is tied to the devotion to the Five Wounds of Christ. Saint Gertrude had a vision on the feast of St. John, where she was resting her head near the wound in the Savior's side and hearing the beating of the Divine Heart which symbolizes the wound of Divine Love. She asked Saint John if on the night of the Last Supper, if he had felt these delightful pulsations, why he had never spoken of the fact. Saint John replied that this revelation had been reserved for subsequent ages when the world, having grown cold, would have need of it to rekindle its love.
In the late 1600's, this devotion became more widely known by the visions of Sister Margaret Mary Alacoque. She had a vision of Christ's Heart on the feast of Saint John that was similar to that of Saint Gertrude. Jesus permitted her to rest her head upon His Heart, and then disclosed to her the wonders of His love, telling her that He desired to make this known to mankind and to diffuse the treasures of His goodness, and that He had chosen her for this work. Jesus asked to be honored under the figure of His Heart of Flesh and asked for a devotion of expiatory love, frequent Communion, Communion on the first Friday of each month and the observance of Holy Hours.
On May 25, 1899, Pope Leo XIII, in his encyclical Annum Sacrum, declared that all Catholics should consecrate themselves to the Christ's Sacred Heart, and his intention to solemnly consecrate all mankind to the Sacred Heart of Jesus, although the Pope pointed out that this would simply be giving Christ what is already His. "And since there is in the Sacred Heart a symbol and a sensible image of the infinite love of Jesus Christ which moves us to love one another, therefore is it fit and proper that we should consecrate ourselves to His most Sacred Heart - an act which is nothing else than an offering and a binding of oneself to Jesus Christ, seeing that whatever honor, veneration and love is given to this divine Heart is really and truly given to Christ Himself."
The Feast of the Most Sacred Heart is celebrated on the day requested by our Lord - the Friday after the octave of Corpus Christi, or 19 days after Pentecost Sunday.
Act of family consecration:
Most Sacred Heart of Jesus and Immaculate Heart of Mary, we consecrate ourselves and our entire family to you. We consecrate to you: our very being and all our life. All that we are. All that we have. And all that we love. To you we give our bodies, our hearts and our souls. To you we dedicate our home and our country. Mindful of this consecration, we promise you to live the Christian way by the practice of Christian virtues, with great regard for respect for one another. O Most Sacred Heart of Jesus and Immaculate Heart of Mary, accept our humble confidence and this act of consecration by which we entrust ourselves and all our family to you. Most Sacred Heart of Jesus, have mercy on us. Immaculate Heart of Mary, pray for us.