Jesse Tree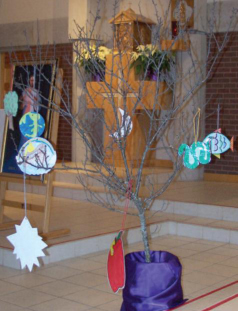 Jesse Tree
A Jesse Tree depicts the genealogy of Jesus, and is designed to show that He springs from the "root of Jesse" per the prophecy of Isaiah 11:1. This prophecy was recalled by St. Paul, and on the first Sunday of Advent, we remember his words with the Epistle reading of Romans 15:4-13. All throughout Advent, we will hear references to Christ's ancestors in the Mass readings.

Jesse Trees can depict the 28 generations listed in Matthew, starting with Jesse and ending with Jesus, while others show representatives from that genealogy (Jesse, David, Solomon, etc.). Many modern Jesse Trees use symbols which summarize the Old Testament and show the history of the world until the birth of Christ (Adam and Eve, Noah, Abraham, etc.).

A Jesse Tree has become an Advent custom for many Catholic families. It is simply a collection of symbols that portray the fact that Jesus has come, as predicted, from the root of Jesse. These symbols can be hung on a small tree or on a branch brought in from outside. They can be hung on small artificial trees made of wood or metals, or on two-dimensional wooden trees. Other families simply draw and color their Jesse Tree on a large sheet of paper or poster board.

The symbolic ornaments can be store bought or homemade, for example, paint on wooden circles, wood carved into shapes, embroidered onto cloth, painted on paper, cut out from cardboard, etc. There are an amazing amount of great Jesse Tree ornaments, like those to the right, which can be simply found on-line and printed out.

Families can add ornaments to their Jesse Trees one each day, starting on Dec. 1 to time with the Advent Calendar and O Antiphons; or you can add them all at once. Faith magazine (www.eriercd.org/jessetree.htm) also offers great readings and reflections for each day of Advent to coincide with building your Jesse Tree. Whatever works for your family is fine. The goal of all Jesse Trees is to show that Christ springs from the root of Jesse, and with the Infant Christ being held by Mary at the apex.