How To Pray The Holy Rosary
The original Rosary consisted of 15 decades or 15 mysteries. Pope John Paul II then added a fourth set of five mysteries to the Rosary; so today, a complete Rosary contains four sets of five mysteries - the Joyful, Sorrowful, Glorious and Luminous Mysteries.

The Joyful Mysteries should be prayed on Mondays and Saturdays and remind us of Christ's birth. The Sorrowful Mysteries, prayed on Tuesdays and Fridays, center around remembering Christ's Passion and death. Prayed on Wednesdays and Sundays, the Glorious Mysteries center on Christ's Resurrection and the glories of heaven. Finally, the new Luminous Mysteries should be prayed on Thursdays. These Mysteries of Light recall special events in Jesus' life between His birth and His death.

When properly prayed, while meditating on the mysteries, the Rosary helps us confirm that Jesus is both divine and human. Both Pope Paul VI and Pope John Paul II reminded Catholics that the Rosary is Christocentric - it focuses on Christ and is more than a Marian devotion.
"To recite the Rosary is nothing other than to contemplate with Mary the face of Christ." ~ Pope John Paul II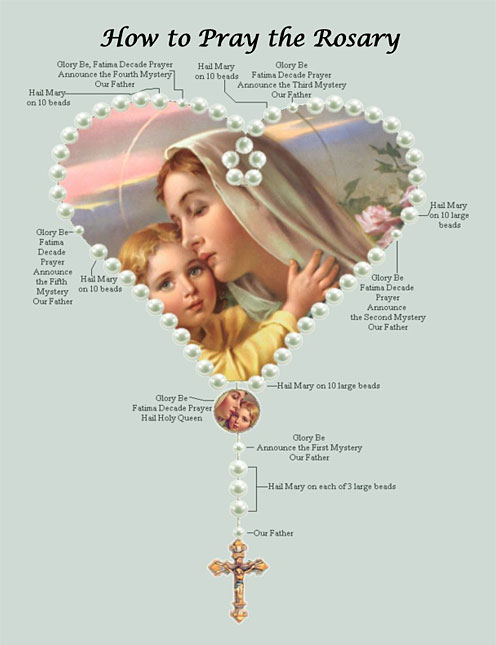 Joyful Mysteries
(Monday and Thursday; and the Sundays from 1st Sunday of Advent until Lent)
The Annunciation to Mary
The Visitation of Mary
The Birth of our Lord Jesus Christ
The Presentation of the Child Jesus in the Temple
The Finding of Our Lord in the Temple
The Sorrowful Mysteries
(Tuesday and Friday; and the Sundays of Lent)
The Agony of Christ in the Garden
The Scourging at the Pillar
The Crowning with Thorns
The Carrying of the Cross
The Crucifixion and Death of Our Lord on the Cross
Glorious Mysteries
(Wednesday and Saturday; and the Sundays from Easter until Advent)
The Resurrection of Our Lord
The Ascension of Our Lord
The Descent of the Holy Spirit upon the Apostles
The Assumption of the Blessed Virgin Mary into Heaven
The Coronation of Our Lady as Queen of Heaven and Earth
Luminous Mysteries
(Thursdays)
Baptism of Christ in the Jordan
Wedding feast at Cana
Announcement of the Kingdom
Transfiguration
Institution of the Eucharist