Feast of the Most Holy Trinity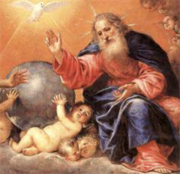 Feast of the Most Holy Trinity
The mystery of the Most Holy Trinity is the central mystery of Christian faith and life. It is the mystery of God himself. It is therefore the source of all the other mysteries of faith, the light that enlightens them.
There is one God and in this one God there are three Divine Persons; the Father is God, the Son is God, the Holy Spirit is God. Yet there are not three Gods, but one, eternal, incomprehensible God! The Father is not more God than the Son, neither is the Son more God than the Holy Spirit. The Father is the first Divine Person; the Son is the second Divine Person, begotten from the nature of the Father from eternity; the Holy Spirit is the third Divine Person, proceeding from the Father and the Son. No mortal can fully fathom this sublime truth. Only in heaven shall we properly understand what it means, in union with Christ, to share as sons in the very life of God.
This feast, which falls on the first Sunday after Pentecost, is to remind us that every Sunday is devoted to the honor of the Most Holy Trinity, that every Sunday is sanctified and consecrated to the triune God. Sunday after Sunday we should recall in a spirit of gratitude the gifts which the Blessed Trinity is bestowing upon us. The Father created and predestined us; on the first day of the week He began the work of creation. The Son redeemed us; Sunday is the "Day of the Lord," the day of His resurrection. The Holy Spirit sanctified us, made us His temple; on Sunday the Holy Spirit descended upon the infant Church. Sunday, therefore, is the day of the Most Holy Trinity.
This feast may be interpreted as a finale to all the preceding feasts. All three Persons contributed to and shared in the work of redemption. The Father sent His Son to earth, for "God so loved the world as to give His only-begotten Son." The Father called us to the faith. The Son, our Savior Jesus Christ, became man and died for us. He redeemed us and made us children of God.
In the ninth century this feast was introduced and was added to the general calendar of the Church in the fourteenth century by Pope John XXII.
Symbols of the Trinity: Equilateral Triangle; Circle of Eternity; Three interwoven Circles; Triangle in Circle; Circle within Triangle; Interwoven Circle and Triangle; Three Fishes linked together in shape of a triangle; Cross and Triangle overlapping; Fleur de Lys; St. Patrick's Shamrock.