Feast of the Holy Innocents
Patron of Babies Feast Day – December 28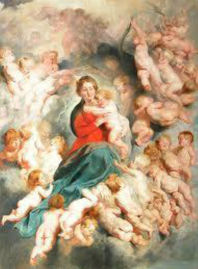 Feast of the Holy Innocents
"When Herod realized that he had been deceived by the magi, he became furious. He ordered the massacre of all the boys in Bethlehem and its vicinity two years old and under…"—Mt 2:16

The Feast of the Holy Innocents remembers and honors the infants that were killed within two years from the star's appearance to the Wise Men. The Church venerates these young children as martyrs as they were persecuted in Christ's name, in deed, actually in the place of Christ Himself.

Herod "the Great" was king of Judea, but was unpopular with the people. He was a brutal leader who killed many who angered him, including his wife and brother. However, he was also insecure and feared any threat to his leadership as king.

Matthew 2: 1-18 tells the story of Herod's insecurity with the "newborn king of the Jews" whom the Magi were searching for by following the star. Herod asked the Wise Men to return and report to him what they had seen so that he too, could "do him homage." After finding Jesus, the Magi were warned by an angel to avoid Herod and they took an alternate route home. Jesus, Mary and Joseph escaped to Egypt.

Upon realizing that the Magi had not returned, Herod became enraged and ordered "the massacre of all the boys in Bethlehem and its vicinity two years old and under…"—Mt 2:16

The horror of the massacre and its devastation to families is recorded in Matthew through Jeremiah the prophet: "A voice was head in Ramah, sobbing and loud lamentations; Rachel weeping for her children, and she would not be consoled, since they were no more."—Mt 2:18 The Rachel referred to is the wife of Jacob who is symbolic for the nation of Israel.

The feast day of these innocent martyred children remind us that God's ways are not our ways. These Holy Innocents who were considered "unnecessary" and "unimportant" by some, help us to recognize the greatest treasure that God has created – a human person created in the image and likeness of God.