The Feast of the Annunciation of Our Lord—March 25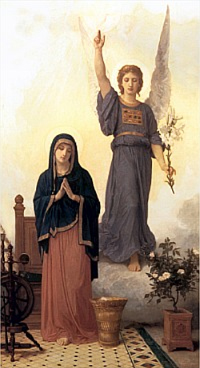 The Feast of Christ the King
The feast of the Annunciation of the Lord celebrates the angel Gabriel's appearance to the Virgin Mary, his announcement that Mary had been chosen to be the Mother of Our Lord, and Mary's fiat—her yes, the willing acceptance of God's holy plan.

The angel Gabriel appeared to Mary to ask her to become the mother of our Lord, Jesus. "…the angel Gabriel was sent from God to a town of Galilee called Nazareth, to a virgin betrothed to a man named Joseph…And coming to her, he said, "Hail, favored one! The Lord is with you." Gabriel tells Mary that her relative, Elizabeth, has also conceived a son "for nothing is impossible for God." (Luke 1:26-38)
Mary's simple "yes," "Behold, I am the handmaid of the Lord. May it be done to me according to your word." opened the pathway for God to accomplish the salvation of the world by cooperating with the work of her Son. Nine months later, Jesus Christ was born into the world.
This birth was foretold in the book of Isaiah, "Therefore the Lord himself will give you this sign, the virgin shall be with child, and bear a son, and shall name him Immanuel." (Is 7:14)
Mary was filled with God's life from the moment of her conception. The Holy Spirit prepared Mary by His Grace to be the Mother of God. For this very reason, she is unique among women and it is fitting to call her "Blessed." (Canticle of Mary, Lk 1:46-55)
Many of the depictions of the Annunciation show the angel Gabriel presenting lilies to Mary. She is now often represented by lilies and the Madonna Lily is named after her. The Annunciation is an important feast day for the Church and is also a principal Marian feast along with the Assumption (August 15) and the Immaculate Conception (December 8).