Feast of Our Lady of Guadalupe - December 12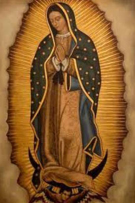 Feast of Our Lady of Guadalupe
Part of the following was taken (with permission) from the Patron Saints Index website.

Our Lady, as an instrument of the Holy Spirit, is responsible for the conversion of the Mexican people in the 16th century. On Saturday, Dec. 9, 1531, the Blessed Virgin appeared to a 55-year-old man named Juan Diego. Mary sent him to Bishop Zumárraga to have a temple built where she stood. She returned to the same place that evening and on Sunday evening to get the bishop's answer.

The bishop did not immediately believe Juan Diego, and told him to ask the lady, who said she was the mother of the true God, for a sign. Juan agreed readily to ask for the sign desired, and the bishop released him.

At the time, Juan's uncle was dying of fever. At daybreak on Tues., Dec. 12, 1531, Juan went to the nearby convent for a priest. To avoid the apparition, he took another route. The Blessed Virgin crossed down to meet him and said, "What road is this thou has taken son?"

Mary reassured Juan about his uncle, to whom she also briefly appeared and instantly cured. Calling herself Holy Mary of Guadalupe, Mary told him to go to the rocks and gather roses. Juan knew it was neither the time nor the place for roses, but he went and found them. He gathered many into the lap of his tilma, a long cloak or wrapper used by Mexican Indians. After returning, the Holy Mother rearranged the roses, and told him to keep them untouched and unseen until he reached the bishop. As he unfolded his cloak for the bishop the roses, fresh and wet with dew, fell out. Juan was startled to see the bishop and his attendants kneeling before him. The life size figure of the Virgin Mother, just as Juan had described her, was glowing on the tilma.

Her image, the nature of which is still unexplained by science, is intact today even though the tilma should have disintegrated centuries ago. It is kept in the "New Basilica" a few miles northeast of Mexico City, in the neighborhood of Villa de Guadalupe Hidalgo.

Our Lady is also the Patroness of the Americas, particularly Mexico, and this Feast is important for all in America to give thanks to God for using His favorite daughter, mother, and spouse in such a miraculous and effective way.