The Feast of Christ the King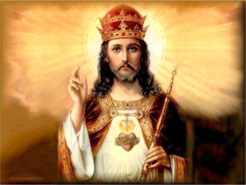 The Feast of Christ the King
"That in the name of Jesus every knee should bow, of those that are in Heaven, on earth and under the earth: And that every tongue should confess that the Lord Jesus Christ is in the glory of God the Father."—Philippians 2:10-11

The Feast of Christ the King celebrates the all-embracing authority of Christ as Lord and King of the universe. The feast is celebrated on the final Sunday of the liturgical year, the Sunday before Advent.

The earliest Christians identified Jesus with the long predicted Messiah of the Jews. In fact, the word "messiah" and "Christ" both mean "anointed one," and were used to refer to the king who was to come deliver Israel from the hands of the Romans. However, Christ the Messiah came to free all people from sin and death and was not the earthly king that the people expected.

Christians have long celebrated Jesus as Christ, Messiah and his reign as King throughout the liturgical year. We have the preparation time of Advent and awaiting His second coming; Christmas (the Magi asked "Where is this newborn king of the Jews." Mt 2:2); Easter (Christ was put to death labeled the king of the Jews) and Ascension when Christ returns to the heavenly kingdom in glory.

In 1925, Pope Pius XI instituted the Feast of Christ the King (encyclical Quas Primas) to specifically commemorate His Kingship. Pope Pius was concerned about the growing secularism in the world and wanted to focus the Church on Christ's authority. His hope was that the faithful would gain strength and courage from the celebration of the feast, as we are reminded that Christ must reign in our hearts, minds, wills and bodies (Quas Primas, 33).