Exaltation of the Holy Cross - September 14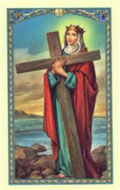 St. Helen of the Cross
At the beginning of the 4th century St. Helena (also known as St. Helen of the Cross), mother of the Roman Emperor Constantine, went to Jerusalem in search of the holy places of Christ's life. She ordered the destruction of the pagan temples and had plans to rebuild Jerusalem.
There, St. Helen began her quest for the true cross of Christ. Her search was unsuccessful until she was told of a temple which tradition held was built over the Savior's tomb. During the excavation, workers found three crosses. Legend has it that the one on which Jesus died was identified when its touch healed a dying woman. Her son, Constantine later built the Basilica of the Holy Sepulcher on this site.
Immediately, the cross became an object of veneration in Jerusalem. At Good Friday celebrations, the wood was displayed on a table and all people would pass by one by one, touching the cross first with their foreheads, then with their eyes and then kissing the cross. Veneration of the Cross is still celebrated annually on Good Friday.
We celebrate the Exaltation of the Holy Cross on the September anniversary of the basilica's dedication.
Today, the cross is the universal image of Christian belief and many think of it as a sign of beauty and redemption. However, to the first Christians, it was a threat to all who defied Rome's authority including Christians who refused to make sacrifices to the Roman gods.
The feast of the Exaltation of the Cross is a day for us to recall Christ's love for us and that He calls us to take up our own crosses and follow Him.