Epiphany - January 6th The Visit of the Magi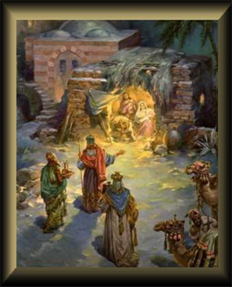 Epiphany - January 6th: The Visit of the Magi
"We saw his star at its rising and have come to do him homage."—Mt 2:2

Christmas (as well as Easter) is celebrated as a period of time rather than just a day. December 25 isn't the one and only day of Christmas, but the beginning of the Christmas season. This season begins on the evening of December 25 and lasts for twelve days until January 6, Epiphany, which marks the end of the Christmas season and the beginning of Ordinary Time in the Church liturgical calendar.

The word epiphany means to "make known", "show" or "reveal." The celebration of Epiphany is a remembrance of the Magi (also known as the Wise Men) bringing gifts to the Christ child and the revealing of Jesus to the world as the Chosen One.

"When Jesus was born in Bethlehem of Judea, in the days of King Herod, behold, magi from the east arrived in Jerusalem, saying, 'Where is the newborn king of the Jews?' We saw his star at its rising and have come to do him homage."—Mt 2:1-2

The Magi (their names are traditionally called Caspar (or Gaspar), Melchior and Balthazar) were astrologers who came from the East, probably Persia, to Jerusalem, a distance of between 1,000 and 1,200 miles. Such a distance would have taken months by camel. They met King Herod as they were following the star and Herod asked them to return with information about the child so that he, too, could do him homage.

"And behold the star that they had seen at its rising preceded them, until it came and stopped over the place where the child was. They were overjoyed at seeing the star, and on entering the house they saw the child with Mary his mother. They prostrated themselves and did him homage. Then they opened their treasures and offered him gifts of gold, frankincense and myrrh." Mt 2:9-11

The Magi departed and traveled home another way back to their country as they were warned not to return to Herod and tell him about the Christ child.