Corpus Christi – The Body and Blood of Christ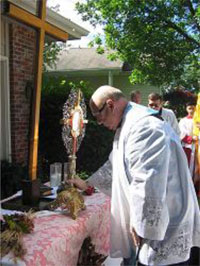 Fr. Christensen during the Corpus Christi procession.
According to Catholic Customs & Traditions by Greg Dues, "The Solemnity of the Body and Blood of Christ", popularly called by its Latin title, Corpus Christi ("Body of Christ"), is celebrated on the second Sunday after Pentecost. Its origin in the 12th century is connected with an exaggerated emphasis on the real presence of Christ in the consecrated bread to be adored to the exclusion of a fuller meaning of Eucharist as celebration, a meal to be eaten. People in the Middle Ages, feeling unworthy to receive Christ in communion, preferred to look at the Blessed Sacrament. This led to the introduction of an elevation of the bread and cup during Mass and ultimately to public displays such as the popular Benediction ritual. The special feast devoted to the Body and Blood of Christ was introduced to the universal church in 1264. A tradition says that St. Thomas Aquinas wrote the prayers and hymns for the feast. Today the former Feast of the Precious Blood on July 1 is incorporated into this solemnity.
The most obvious religious tradition associated with this feast is the Corpus Christi procession. It was becoming common already in the late 13th century, and in a hundred years was adopted in most countries. This popular procession included carrying the Blessed Sacrament, visible in a vessel called a monstrance (Latin monstrare , "to show"). In most places the procession included features of a pageant with lavish decorations and flowers. It was popular to stop at outdoor altars, called stations, where there were prayers, songs, and blessing with the Sacrament. The real motive for the procession was to publicly display a personal faith in the Real Presence.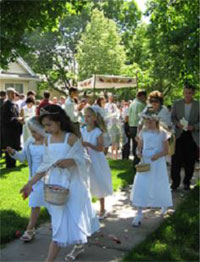 First communicant girls and parishioners during the Corpus Christi procession.
The Corpus Christi procession is an exercise of devotion and not a liturgical ritual. Its celebration falls, therefore, under the jurisdiction of local bishops. Since Vatican II this tradition has not been observed as in previous centuries. In some places it has been replaced with an outdoor Mass. One of the reasons for its curtailment is the reform and renewal of the liturgy in the post-Vatican era. The meaning of the Eucharist has been recaptured in the context of a meal and the church's public worship, with most parishioners receiving communion when they participate in the Mass. The original motives for the procession, especially the need to look at the Blessed Sacrament and be blessed by it, instead of "take and eat," no longer apply."
St. Peter's Corpus Christi procession is held at our 9:30 AM Mass. The procession will follow Mass and wind through the neighborhood where three outside home altars will be visited. Recent first communicant girls will be dressed in their white dresses and will be leading the procession while tossing flower petals along the route.