Music Ministry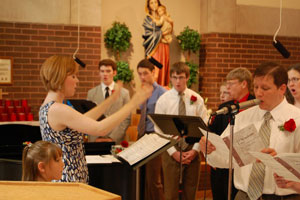 St. Peter's Choir
We need your voice or instrument!
Music ministry can only be as good as the people willing to share their talents. If you are a musician—singer or instrumentalist—please consider sharing your time and talent with St. Peter's Music Ministry. No gift is too small (once a month, special occasions, every week etc.). Contact Mary Odgaard at 402-483-4945 with any questions concerning music at St. Peter's.
"Those who sing, pray twice."—St. Augustine
Saturday, 5:30 Vigil
Under the direction of Amy Flamminio (402-440-7170), this choir sings a blend of contemporary and traditional music with a focus on the texts and readings of the day. They utilize as many instruments as possible, typically using organ, piano, flute, violins, and specific instruments for special music at a given Mass. While primarily adults, the choir also welcomes junior high and high school students. The choir sings during the school year, rehearsing on Tuesday evenings, and Saturdays at 4:30 (prior to the 5:30 vigil), and a lighter schedule during the summer.
Sunday, 9:30
Under the direction of Jim Bertrand (402-421-7656), accompanied by Lilla Revesz, this choir primarily sings traditional hymns, specializing in singing the Latin Mass during the more solemn seasons of the year. They utilize piano, organ, and guitars, and consist of a very dedicated group of about a dozen singers that have been with the choir for quite some time. They rehearse on Wednesday evenings, and sing through the whole year.
Sunday, 11:30
Under the direction of Mary Odgaard (formerly Zimmer) (402-483-4945), accompanied by Katy Dornbos, this choir sings a blend of contemporary and traditional music. Primary instruments used throughout the Masses are piano, organ, cello, percussion, violins, and the choir also utilizes special instruments (such as brass or reeds) for the more solemn Masses. Although a family friendly choir (open to upper junior high/high school through adult), younger children are asked to be accompanied by a parent or older sibling in the choir. Members are very dedicated to their music. The choir sings throughout the whole year, with a more relaxed schedule during the summer. They rehearse Wednesday evenings from 7 to 8 pm, and Sunday mornings at 10:30 a.m. (prior to the 11:30 Mass).
Extra information
Periodically throughout the liturgical season, unity choirs are asked to sing for special Masses. For example, Christmas Midnight vigil, and Good Friday are "unity choir" Masses. Members from each choir are encouraged (though certainly not required) to sing for these Masses, providing a huge, rich sound for these very important Masses, and fostering unity within the music ministry at St. Peter's. Additionally, the choirs periodically sing for community events, Holy Day Masses, weddings, and work hard to foster a sense of community and belonging at St. Peter's.
Musicians from each choir are available to sing for weddings and funerals at St. Peter's. We have soloists (both male and female), duets, small groups, or whole choirs, depending on the wishes/needs of the event. Contact Mary Odgaard (402-483-4945) for more information and to line up musicians.
Download St. Peter's Wedding Music Guidelines (PDF) and read more about the sacrament of Matrimony.