Current Course Offerings
This is the beginning of your new faith journey at St. Peter's. Invite your friends and family to this great new experience.
---
That Man Is You!
Upcoming Spring Sessions: Begin Saturday January 14
1/14     To Hear the Voice of God
1/21     The World in which we live
1/28     The Promise of Springtime
2/4        Apostles of the Family
2/11      A Dialogue with God
2/18      Receiving the gift of Mary
2/25      Enter into Great Silence
3/4        Hearing the Voice of God
3/11      Fidelity of your state in life
3/18     Reading signs from GOD
3/25     A Peace not of this world
4/1       The Vineyard of the Family
---
RCIA Classes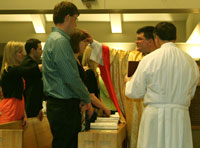 Upcoming Sessions: Spring 2017
Parish Meeting Room (church basement)
Classes are for all adults looking to learn more about the Catholic faith including current Catholics and those thinking about becoming Catholic.
This is a weekly class (Sept.–March). Classes will be held on Monday nights from 7 - 8:30 pm and began Monday, September 12.
---
EFF is constantly working to bring new courses to the learning center in order to help you grow in your Catholic faith. If you have questions about our current course offerings or would like to help develop new courses please contact us.