Evangelization and Faith Formation
Is our parish's response to Jesus' call: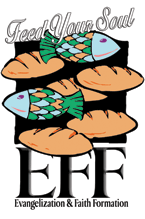 Evangelization and Faith Formation Committee (EFF)
"Go therefore, and make disciples of all nations" Mt 28:19
In 1995 Bishop Bruskewitz mandated all parishes establish a parish evangelization team. Each team was to provide a centralized, focused group of individuals to work toward the central mission of the church: EVANGELIZATION.
Evangelization: bringing the Good News of Jesus Christ into every human situation and seeking to convert individuals and society by the divine power of the Gospel itself. Or simplified; bringing everyone closer to Jesus.
Evangelization is not just the function of the priest and religious, but all baptized individuals are called to this mission. With the demands of parish life our priests and religious need the help and support from parishioners committed to spreading the Good News.
Our Parish team, established in 1996, has evolved and grown to meet the needs of our parish. Some of the programs our committee has developed and/or sponsored to answer Christ's call include:
Lenten Retreats – Parish Retreat

Small Faith Sharing Communities

Resource for Father Townsend

Update of Parish Census and Home Visits

Facilitating Parish Communications