News & Announcements
Registration forms for the 2016-17 school year are now available! Classes begin August 24th.

GodTeen early registration is now available for the 2016-17 school year. GodTeen Kick-Off is August 28th!

Volunteers Needed - Playground Assembly

Volunteers are needed on Sat. August 27 after the 8:15 am Mass to assemble the playground equipment. Your assistance is greatly appreciated. Questions? Contact Kurt 402.429.0501

Saturday Confession Time Change

Just a reminder that Saturday confessions will be heard from 4 - 5 PM and 6:30 - 7 PM.

KNIGHTS OF COLUMBUS

The next Knights of Columbus meeting will be Tuesday, September 6. Rosary in the church at 6:30 PM and the general meeting will begin at 7 PM in the meeting room. All Knights are encouraged to attend.

That Man Is You! (TMIY) will begin on Sat. Sept. 10th. This year's theme is The Spirit of Nazareth.
RCIA

This years' Rite of Christian Initiation for Adults classes will be held on Monday evenings from 7 - 8:30 pm. Classes will begin September 12 and continue most Mondays through April 3rd.
Children's Liturgy

Children's Liturgy will begin in Sept. and teachers are needed for ONE Sunday each month at the 9:30 Mass. Contact Barb at 402-202-2372. Helpers who are 5th graders and older are also needed and can earn volunteer hours.

BoxTops for Education

Help win $5,000 for our school! Every Walmart-exclusive Box Tops Certificate that is clipped and turned in earns our school a change to be one of 20 winners of bonus points worth $5,000 for our classrooms. Box Tops container is located along the side of the scrip counter against the wall.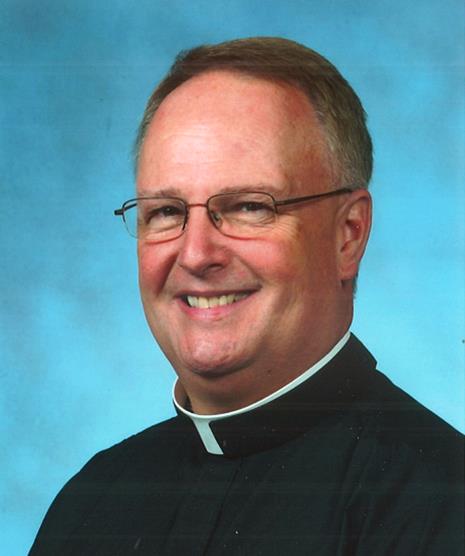 Notes from Father Charles Townsend
The past few weeks have been a mix of highs and lows for me.  The week of August 7-14, I was able to take two former students now a freshman and junior at the University to see St. Charles Seminary and Mt. St. Mary's Seminary in Philadelphia and Emmitsburg, Maryland respectively.  They were brothers who both had been wonderfully loyal servers and helpers to me since they were in elementary school and have come from a family supportive of religious and priestly vocations.  We flew to Philadelphia and stayed at St. Charles Seminary with Father Kane for a couple days.  While we were there, we were able to see a number of historic sites, both religious and secular.  Among the places we visited, celebrated Mass, and prayed was St. John Neumann's Shrine, St. Charles Seminary, the Cathedral of Sts. Peter and Paul in Philadelphia, St. Elizabeth Ann Seton's Shrine in Emmitsburg, Maryland, the National Grotto of Our Lady of Lourdes at Mt. St. Mary's Seminary, and the Basilica Shrine of The Immaculate Conception in Washington D.C.  I mention this because I wanted you to know that I/we prayed for your everywhere we stopped.  We lit candles for you and put you down in writing on every petition we could in each place!  You are loved and prayed for!  Now I ask you to pray for vocations.  Thank you!
As I arrived home my brother was taken to the Nebraska Heart Institute to see if he might be a candidate for a heart pump because he suffers from stage four heart failure.  After extensive testing, he turned out to be unacceptable as an open-heart surgery candidate.  On Saturday, August 20, he made the decision to go home to Omaha with hospice care.  There is little that can be done for him except comfort measures.  His doctors and nurses (all from St. Peter's Parish incidentally) have been wonderfully supportive, loving and kind.  Doug could not have asked for any better care from loving physicians, and as a family, we could not be any more comforted than seeing him get the loving attention anyone would want for their loved one. 
I thank you, as does Doug, for the prayerful support of this parish community.  We have been praying for him for several weeks, and we will continue to do so.  I hope you know how much your support is appreciated—not only by my family, but by all who are suffering illness or loss in their family.  In the past several weeks, I have had two funerals and both families are appreciative of your kind and prayerful support.  Never underestimate the power of your prayers and what they mean to those who suffer.  May God reward you a hundred-fold for your charity and kindness and love!
---
Online Giving

Thank you to the many families that have signed up for Online Giving! If you manage your bills online, we're sure you'll like the convenience of giving to your church online. It's safe and secure, and you decide exactly when your gift is made and where it goes. You can even view your giving history and pledge progress at any time, just by logging in. Get started or access your existing account.
---
Phone List
Angels of Mercy
421-1730 or 421-1830
St. Vincent de Paul Help Line
435-7968
Parish Office
423-1239
Prayer Line
421-1730
St. Peter's School
421-6299
CCD & GodTeens
328-2866
Evangelization Office
328-2866