Location
4500 Duxhall Drive, Lincoln Nebraska 68516
Phone List
St Peter's Parish Office
402-423-1239
St. Peter's School
402-421-6299
Angels of Mercy
402-421-1730 or 402-421-1830
St. Vincent de Paul Help Line
402-435-7968
Prayer Line
402-421-1730
CCD & GodTeens
402-328-2866
Evangelization Office
402-328-2866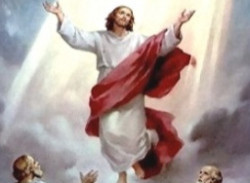 Ascension Thursday
---
May 25th 2017
Ascension Day is officially celebrated on a Thursday on the 40th day of Easter, or 39 days after Easter Sunday.
According to the New Testament in the Bible, Jesus Christ met several times with his disciples during the 40 days after his resurrection to instruct them on how to carry out his teachings.
It is believed that on the 40th day he took them to the Mount of Olives, where they watched as he ascended to heaven.