News & Announcements
Ash Wednesday - March 1

Masses will be celebrated at 6:30 a.m., 8:15 a.m., 12:10 p.m., 4:30 p.m., and 7:00 p.m. Ashes will be distributed at all the Masses that day.

Stations of the Cross - Friday March 3

Stations will be held on Friday, March 3rd @ 2:30 pm (with the school students) and 5:30 pm.
Please note time change for evening Stations.

Sunday, March 5 at 9:30 am Mass

Bishop Conley will be at the Mass at 9:30 am and will offer a blessing of initiation for our newest members of the St. John Bosco Society. High school and second semester 8th grade servers are invited to join the Society. St. John Bosco is the patron of youth and fostered many young men to nurture their faith life and prayerfully remain open to a call to the priesthood.

Confirmation Mass

CONFIRMATION will be held at St. Peter's on Monday, March 6th at 7:00 pm, with Bishop Conley.
Please keep the students in your prayers.

40 DAYS FOR LIFE PRAYER VIGIL Our community will take part in the 40 Days for Life prayer vigil to end abortion from March 1st - April 9th at Planned Parenthood, 5631 S. 48th St. A "Kickoff Rally" will be held Sunday, February 26th from 6:30 pm - 7:30 pm at Cornerstone Church, 4849 Old Cheney Rd. After the program, we will walk to Planned Parenthood for prayers (weather permitting - please bring a flashlight). St. Peter's has been assigned the hours of 2:00 pm - 8:00 pm on Mondays during the campaign. To sign up please go to 40daysforlife.com/Lincoln.

RCIA

Rite of Christian Initiation for Adults classes meet 7 - 8:30 pm in the downstairs meeting room. Upcoming Topics: Feb. 27 - Morality, Part 1 and March 6 - No class due to Confirmation; March 13, Morality - Part 2 and Sexuality.

ST. PETER'S PRE-KINDERGARTEN PROGRAM is now taking applications for the 2017-2018 year.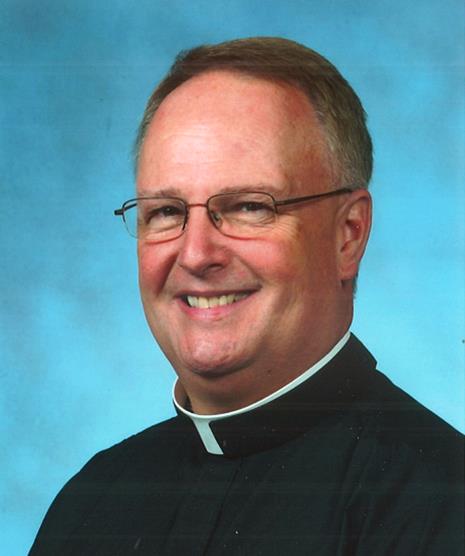 Notes from Father Charles Townsend
Now that we have begun the annual celebration of this penitential season last Wednesday (Ash Wednesday), I hope that Lent will be a time of renewal for all of us.  We need to have opportunities for prayer, reflection and more frequent reception of the sacraments.  Daily Mass is a great thing to add to one's spiritual life during Lent if your schedule allows.  Even if it's one day a week, it's noteworthy in one's life to add the reception of the Eucharist.  We also will continue to have Confessions daily before each of the morning Masses.  I hope these additional Confession times will make it possible to avail yourself to Confession during Lent.  As I mentioned at Christmas, it's good to get to Confession during Lent, but twice during Lent would be even better!  Perhaps this is something to think about as we move forward into this penitential season of renewal and conversion. God bless you all as we move into this holy season!
 A number of people have asked for an update on Father Faulkner, so I asked him to send us an update on his recovery from open-heart surgery to replace a valve and repair and aortic aneurism.  This is his latest reply.   First, thank you for the innumerable prayers you have sent up to heaven on my behalf in the last few weeks. The first surgery on the 31st went very well but I had to have a second open heart surgery on the 9th to clear out stuff on the heart that they feared was causing infection.  That one was quicker and I've been at the Bonacum House for retired priests since the 13th.  There are still things that we're trying to get healed and normalized before I can go home, but we hope that is close to the beginning of Lent. And if all things go well, I should be able to go back to Wahoo on light duty for the week starting March 6th.  Thank you so much for everything!
Since Lent is a penitential season, I suppose it's good to bring up a few things on finance.  In the fall we organized a Finance Council.  As you know, St. Peter's Church and School is a large civil corporation as well as a religious institution.  Our annual budget runs into the millions of dollars.  In fact, our projected budget for the parish and school for the 2017-18 fiscal year is set to be over three million dollars ($3,000,000). Quite frankly, this is big business.  Being an accountant in a former life, I believe in accurate reporting and accounting principles.  Shortly after our Finance Council was established, I listed as my priorities an examination of our employment rolls and also our financial statements.  Auditing was one of my favorite classes at the university years ago.  If I am going to be responsible for signing financial statements, I want to make sure they are accurate, concise and can be transparent to you. 
We are still in the process of analyzing the financials of the past several years. Being new, I want to understand the needs and expenses of the parish but I believe it is equally important that parishioners have an understanding as well.  At this point, one thing I think is worthy of noting is that our adult envelopes (collections) are down $89,593 in the first seven months (July through January) of our current fiscal year 2016-17.  Our fiscal year runs from July 1 to June 30 of the following year.  This is a significant drop in revenue from adult envelopes.  The reason that we have not noticed the drop in revenue more significantly than we have is that we have received substantial rebates from the Diocesan Campaigns of the past few years.  We are trying to assess the reason for the decrease.  It has been suggested that perhaps because the parish and school are debt free, some may perceive we have reduced costs, which is definitely not the case.  It has also been suggested that recent diocesan campaigns may have made had an impact.  There may be other reasons as well that we have not considered.  My initial takeaway is that we should be communicating with you in a more meaningful and thoughtful way on the ongoing operational and maintenance needs of the parish and its parishioners. A parish is a family, and we will find our way onward and upward together.  We have been blessed to do some of the ongoing things that we need to in church because of the wise planning of various organizations to save money for the carpet and to assist with the cost of recovering the pews.  As we continue to analyze the financial statements of the past few years and budget for the 2017-18 fiscal year, we plan to keep you informed of what we are working on.  This is definitely a work in progress!  God bless you all!
---
Online Giving

Thank you to the many families that have signed up for Online Giving! If you manage your bills online, we're sure you'll like the convenience of giving to your church online. It's safe and secure, and you decide exactly when your gift is made and where it goes. You can even view your giving history and pledge progress at any time, just by logging in. Get started or access your existing account.
---
Phone List
Angels of Mercy
421-1730 or 421-1830
St. Vincent de Paul Help Line
435-7968
Parish Office
423-1239
Prayer Line
421-1730
St. Peter's School
421-6299
CCD & GodTeens
328-2866
Evangelization Office
328-2866